Overview
Plantar fasciitis is that pain in the bottom of your foot usually in the heel. That pain
hurts
especially with the first few steps in the morning as you get out of bed. This strange name comes from: "Plantar" means
something
that belongs to the foot, "fascia" means a band or ligament or a connective tissue, and "itis" means inflammation. You can see in the picture the plantar fascia band as it runs along the foot. This band connects your heel bone to the toes.
Causes
Because the plantar fascia supports your foot and gets used every time you take a step, it has to absorb a large amount of stress and weight. If too much pressure is put on the plantar fascia, the fibers can become damaged or start to tear. The body responds by causing inflammation in the affected area. This is what causes the pain and stiffness of plantar fasciitis. Things that can increase the risk of plantar fasciitis include tight calf muscles. Tight calves make it harder to
flex
your foot, and this puts more stress on the plantar fascia. Weight. Carrying a few extra pounds puts added pressure on your feet every time you take a step. Activities that put a lot of stress on the feet. This includes things like running, hiking, dancing, and aerobics. Bad shoes. Footwear that doesn't give your foot the support it needs increases your risk of plantar fasciitis. You'll want to ditch any shoes that have thin soles or inadequate arch support, or ones that don't fit your feet properly. Routinely wearing high heels can also cause your Achilles tendon to contract over time, making it harder to
flex
your foot. Jobs that involve a lot of standing or walking on hard surfaces. Jobs that keep you on your feet all day, like waiting tables or working in a store, can cause damage to your plantar fascia. High arches,
flat
feet, or other foot problems. The shape of your foot can affect the way your weight is distributed on your feet when you stand. If weight distribution is a bit off, it can add to a person's risk of plantar fasciitis. How someone walks can increase the stress on certain parts of the foot too.
Symptoms
The typical presentation is
sharp
pain localized at the anterior
aspect
of the calcaneus. Plantar fasciitis has a partial association with a heel spur (exostosis); however, many asymptomatic individuals have
bony
heel spurs, whereas many patients with plantar fasciitis do not have a spur.
Diagnosis
A health care professional will ask you whether you have the classic symptoms of first-step pain and about your activities, including whether you recently have intensified your training or changed your exercise pattern. Your doctor often can diagnose plantar fasciitis based on your history and symptoms, together with a physical examination. If the diagnosis is in doubt, your doctor may order a foot
X-ray
, bone scan or nerve conduction studies to rule out another condition, such as a stress fracture or nerve problem.
Non Surgical Treatment
A change to properly fitting, appropriate shoes may be useful in some patients. Some individuals wear shoes that are too small, which can exacerbate many types of foot pain. Patients often find that wearing shoes with thicker, well-cushioned midsoles, usually made of a material like high-density ethylene vinyl acetate (such as is found in many running shoes), decreases the pain associated with long periods of walking or standing. Studies have shown that with age, running shoes lose a significant portion of their shock absorption. Thus, simply getting a new pair of shoes may be helpful in decreasing pain. For individuals with
flat
feet, motion control shoes or shoes with better longitudinal arch support may decrease the pain associated with long periods of walking or standing. Motion control shoes usually have the following characteristics: a straight last, board or combination lasted construction, an external heel counter, a wider flare and extra medial support. A change in shoes was cited by 14 percent of patients with plantar fasciitis as the treatment that worked best for them.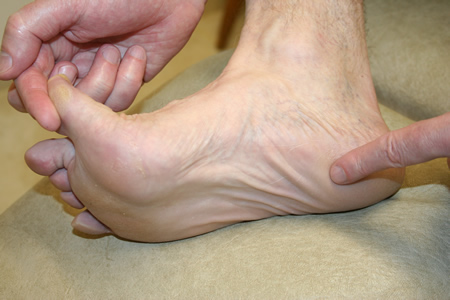 Surgical Treatment
Surgery is rarely used in the treatment of plantar fasciitis. However it may be recommended when conservative treatment has been tried for several months but does not bring adequate relief of symptoms. Surgery usually involves the partial release of the plantar fascia from the heel bone. In approximately 75% of cases symptoms are fully resolved within six months. In a small percentage of cases, symptoms may take up to 12 months to fully resolve.
Prevention
The following steps will help prevent plantar fasciitis or help keep the condition from getting worse if you already have it. Take care of your feet. Wear shoes with good arch support and heel cushioning. If your work requires you to stand on hard surfaces, stand on a thick rubber mat to reduce stress on your feet. Do exercises to stretch the Achilles tendon at the back of the heel. This is especially important before sports, but it is helpful for non-athletes as well. Ask your doctor about recommendations for a stretching routine. Stay at a healthy weight for your height. Establish good exercise habits. Increase your exercise levels gradually, and wear supportive shoes. If you run, alternate running with other sports that will not cause heel pain. Put on supportive shoes as soon as you get out of bed. Going barefoot or wearing slippers puts stress on your feet. If you feel that work activities caused your heel pain, ask your human resources department for information about different ways of doing your job that will not make your heel pain worse. If you are involved in sports, you may want to consult a sports training specialist for training and conditioning programs to prevent plantar fasciitis from recurring.