Overview
Heel pain is the most common musculoskeletal complaint of patients presenting to podiatric practitioners throughout the country. It is well-recognized that subcalcaneal pain syndrome, commonly attributed to plantar fascitis, is a disease entity that is increasing in its incidence, owing partly to the fact that it has a predilection for people between the age of 40 and 60, the largest age segment in our population.
Causes
Far and away the most common cause of plantar fasciitis in an athlete is faulty biomechanics of the foot or leg. Faulty biomechanics causes the foot to sustain increased or prolonged stresses over and above those of routine ground contacts. Throughout the phase of ground contact, the foot assumes several mechanical positions to dissipate shock while at the same time placing the foot in the best position to deliver ground forces. With heel landing the foot is supinated (ankle rolled out). At mid-stance the foot is pronated (ankle rolled in). The foot is supinated again with
toe
-off. The supination of the foot at heel strike and
toe
-off makes the foot a rigid lever. At heel strike the shock of ground contact is transferred to the powerful quads. During
toe
-off forward motion is created by contraction of the gastroc complex plantar flexing the rigid lever of the foot pushing the body forward.
Symptoms
The classic sign of plantar fasciitis is that the worst pain occurs with the first few steps in the morning, but not every patient will have this symptom. Patients often notice pain at the beginning of activity that lessens or resolves as they warm up. The pain may also occur with prolonged standing and is sometimes accompanied by stiffness. In more severe cases, the pain will also worsen toward the end of the day.
Diagnosis
Plantar fasciitis is usually diagnosed by a health care provider after consideration of a person's presenting history, risk factors, and clinical examination. Tenderness to palpation along the inner
aspect
of the heel bone on the
sole
of the foot may be elicited during the physical examination. The foot may have limited dorsiflexion due to tightness of the calf muscles or the Achilles tendon. Dorsiflexion of the foot may elicit the pain due to stretching of the plantar fascia with this motion. Diagnostic imaging studies are not usually needed to diagnose plantar fasciitis. However, in certain cases a physician may decide imaging studies (such as X-rays, diagnostic ultrasound or
MRI
) are warranted to rule out other serious causes of foot pain. Bilateral heel pain or heel pain in the context of a systemic illness may indicate a need for a more in-depth diagnostic investigation. Lateral view x-rays of the ankle are the recommended first-line imaging modality to assess for other causes of heel pain such as stress fractures or bone spur development. Plantar fascia aponeurosis thickening at the heel greater than 5 millimeters as demonstrated by ultrasound is consistent with a diagnosis of plantar fasciitis. An incidental finding associated with this condition is a heel spur, a small
bony
calcification on the calcaneus (heel bone), which can be found in up to 50% of those with plantar fasciitis. In such cases, it is the underlying plantar fasciitis that produces the heel pain, and not the spur itself. The condition is responsible for the creation of the spur though the clinical significance of heel spurs in plantar fasciitis remains unclear.
Non Surgical Treatment
At the first sign of soreness, massage (roll a golf ball under your foot) and apply ice (roll a frozen bottle of water under your foot). What you wear on your feet when you're not running makes a difference. Arch support is key, and walking around barefoot or in flimsy shoes can delay recovery. If pain is present for more than three weeks, see a sports podiatrist. Treatments such as orthotics, foot taping, cortisone injections, night splints, and anti-inflammatories decrease symptoms significantly in about 95 percent of sufferers within six weeks. For more stubborn cases, physical therapy may be prescribed; six months of chronic pain may benefit from shock-wave therapy, an
FDA
-approved plantar-fasciitis treatment.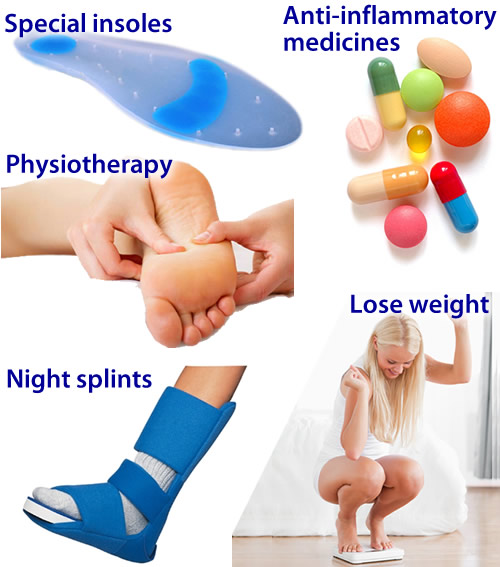 Surgical Treatment
Although most patients with plantar fasciitis respond to non-surgical treatment, a small percentage of patients may require surgery. If, after several months of non-surgical treatment, you continue to have heel pain, surgery will be considered. Your foot and ankle surgeon will discuss the surgical options with you and determine which approach would be most beneficial for you. No matter what kind of treatment you undergo for plantar fasciitis, the underlying causes that led to this condition may remain. Therefore, you will need to continue with preventive measures. Wearing supportive shoes, stretching, and using custom orthotic devices are the mainstay of long-term treatment for plantar fasciitis.
Prevention
Making sure your ankle, Achilles tendon, and calf muscles are flexible can help prevent plantar fasciitis. Stretch your plantar fascia in the morning before you get out of bed. Doing activities in moderation can also help.